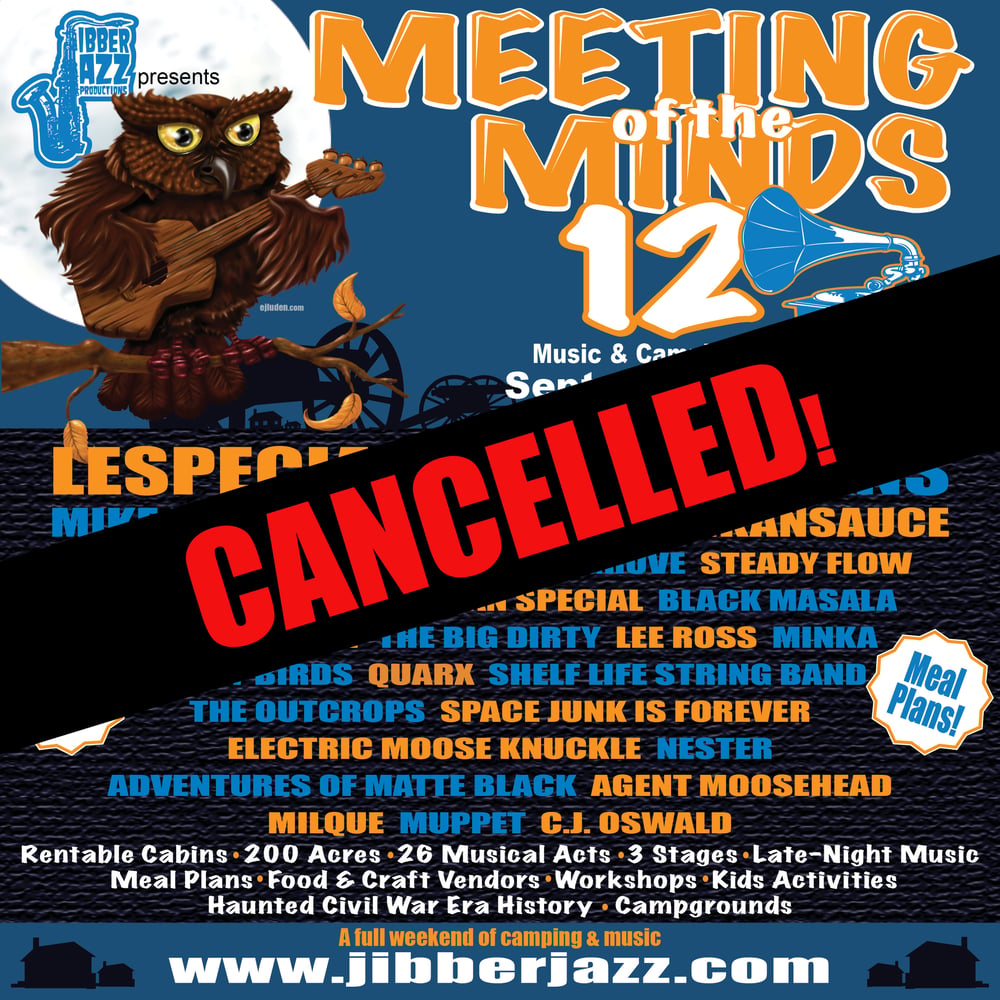 Meeting Of The Minds 12
Camp Ramblewood
2564 Silver Road, Darlington, Maryland 21034
This year's musical camping extravaganza will feature 26 musical acts on 3 outdoor and indoor stages, rentable cabins, meal plans, late night jams, kids activities, workshops, vendors, parade, plenty of room for camping, nature trails and various on-site recreation amenities and more. Artists are hand-selected from all corners of the USA and beyond, showcasing a variety of musical styles including: Jam, Funk, Bluegrass, Rock & Roll, Blues, Folk, Fusion, Prog, World, Roots, Jazz etc.

Our new venue - Camp Ramblewood - is a 200-acre rustic campground with roots traced back to the Civil War era. This sprawling camp was once a crucial part of the Underground Railroad, and is also a well-documented hot spot for paranormal activity. But beyond all the folklore, you will find a pristine venue that caters to the needs of alternative gatherings, featuring rentable cabins and various on-site recreation amenities. The MOTM12 lineup features bands drawn from 15 different states, plus one international act. Additionally, 13 out of 26 musical acts have never played a Jibberjazz event before. The true spirit of Jibberjazz is alive and well, as we continue on our quest to find the next great sounds that emerge from the abyss!

CABINS
A limited number of rentable cabins are available, which include:

Tempurpedic Beds (7-13 per cabin)
Electricity and Lights
Private or Shared Bathrooms and Showers
Provide your own: padlock, blankets and pillows

TICKETS

GENERAL ADMISSION:
EARLY BIRD (May 24-June 24) $110
TIER 1 (June 25-July 24) $120
TIER 2 (July 25-September 12) $130
GATE (After September 12) $150

THURSDAY:
Add $20 to arrive Thursday after 4pm, paid in cash at gate. There is live music Thursday night.

SATURDAY:
Price of admission drops to $90 after 9am Saturday.

SUNDAY:
Price of admission drops to $20 after 9am Sunday. There is live music Sunday afternoon.

ADDITIONAL:
All passes are non-refundable.
Reentry permitted with original ticket stub AND wristband intact.
All tickets include overnight camping (no day passes).
Children 12 and under are free-of-charge accompanied by legal guardian.
All online sales are "will call" and picked up at the gate with valid ID.
For ticket questions, email [email protected].
More information can be found at the FAQ page.